We offer 15 hours per week of 3-year-old and 4-year-old kinder
2024 Timetable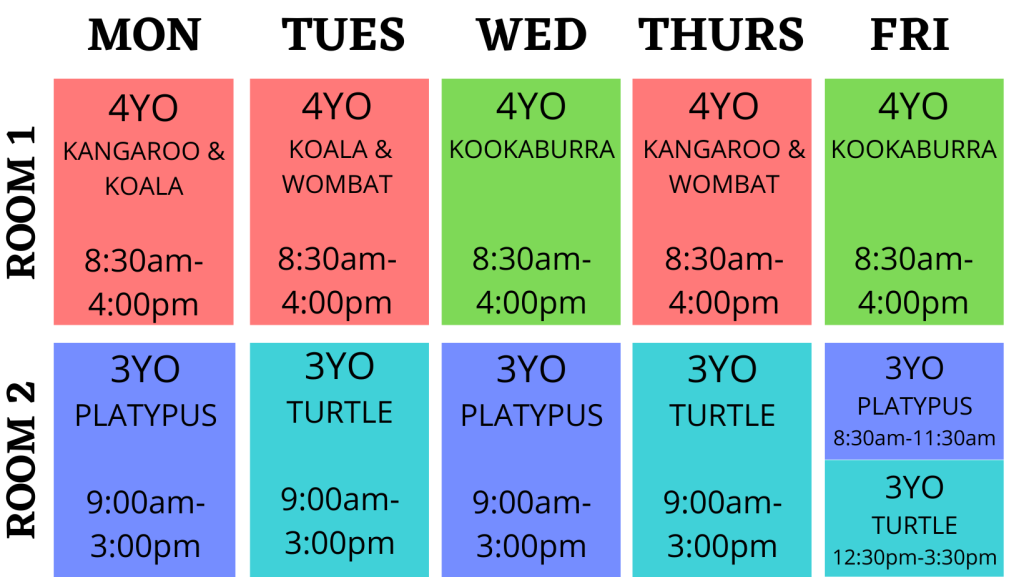 2023 Timetable
2023/2024 Fees
From 2023, kinder is free for families, so no fees are charged. For more information: https://www.vic.gov.au/give-your-child-the-best-start-in-life
How to Enrol:
Children are eligible to enrol in 3yo preschool if they turn 3 by the 30th of April, and can attend onsite once they have had their 3rd birthday. Children can attend 4yo preschool if they turn 4 by the 30th of April.
All 3yo and 4yo year old enrolments are managed by Banyule City Council. Applications must be made online at www.banyule.vic.gov.au/kindergartens and will be accepted from 1st March in the year prior to the child attending – e.g. if planning to attend in 2024, applications will be accepted online from 1st March 2023.
Banyule allocates places according to the Department of Education and Training (DET) priority of access and Banyule Council's Kindergarten Central Registration policy.
Dates for offers of 2024 kinder places from Banyule Council:
10 July – Round One offers (last day to accept Round One offers is 17 July)
24 July – Round Two offers (last day to accept Round Two offers is 31 July)
7 August – Round Three offers (last day to accept Round Three offers is 14 August)
In September, once all rounds of offers are finalised, Banyule will provide us a list of children allocated places at Panorama Heights. We will contact those families with specific enrolment information, including group preferences.