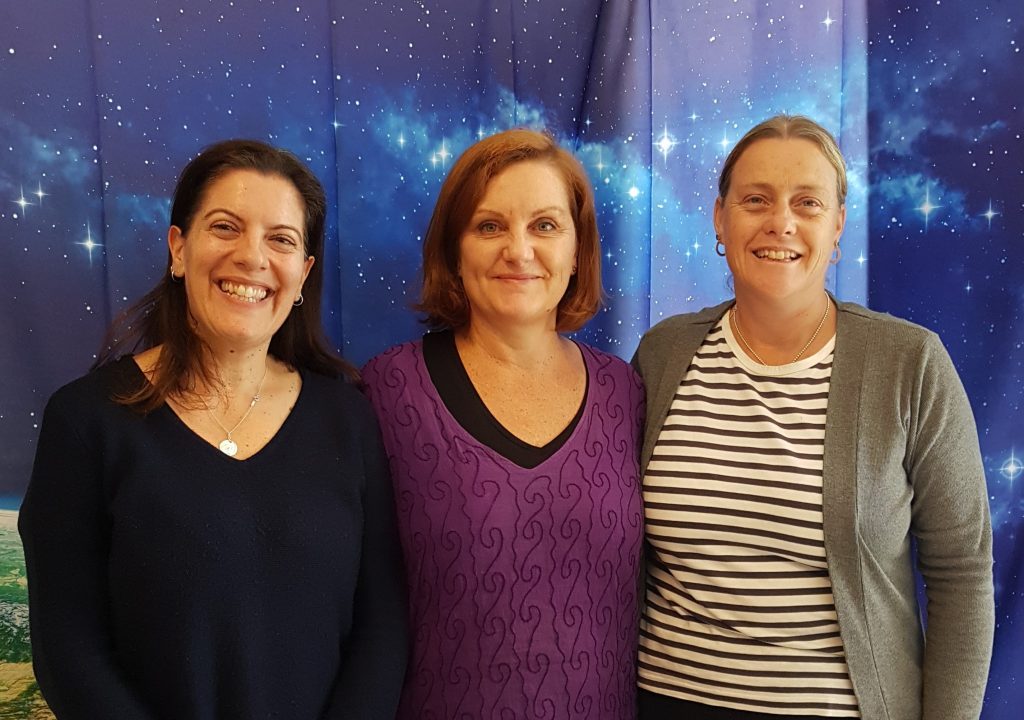 Blue Group – 
3 Year Old
Rose (Co-educator), Jacqui (Teacher), Cindy (Co-educator)
Red Group – 

4 Year Old
Jo (Co-educator), Luluk (Co-educator), Kaye (Teacher).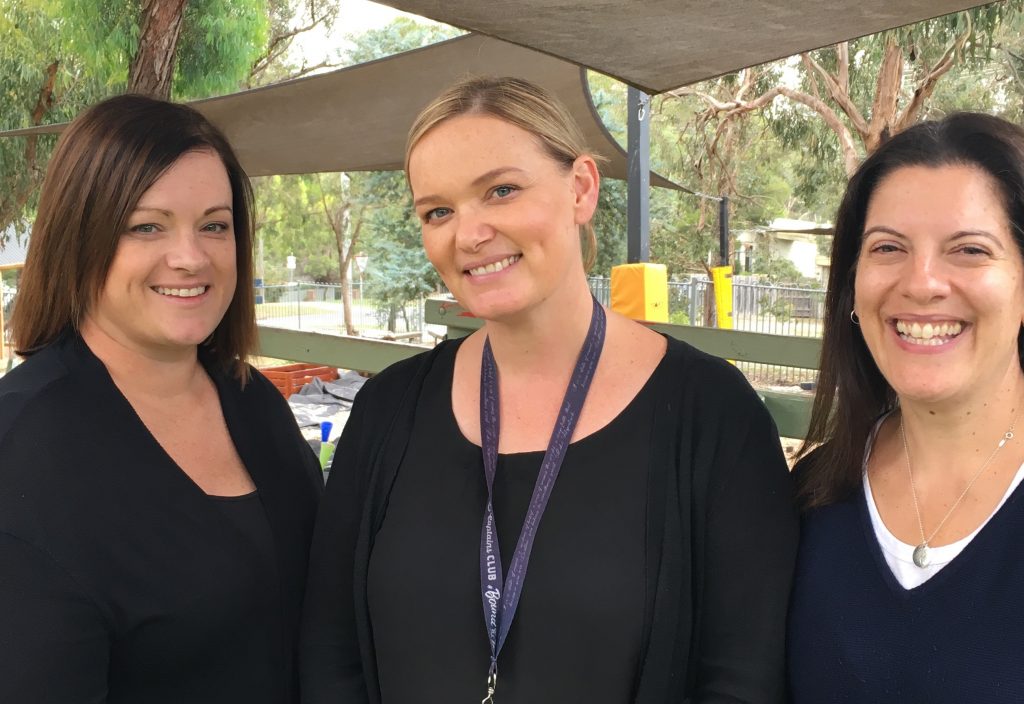 Green Group  – 
4 Year Old
Amanda (
Teacher
), Mel (
Co-educator
), Rose (
Co-educator
)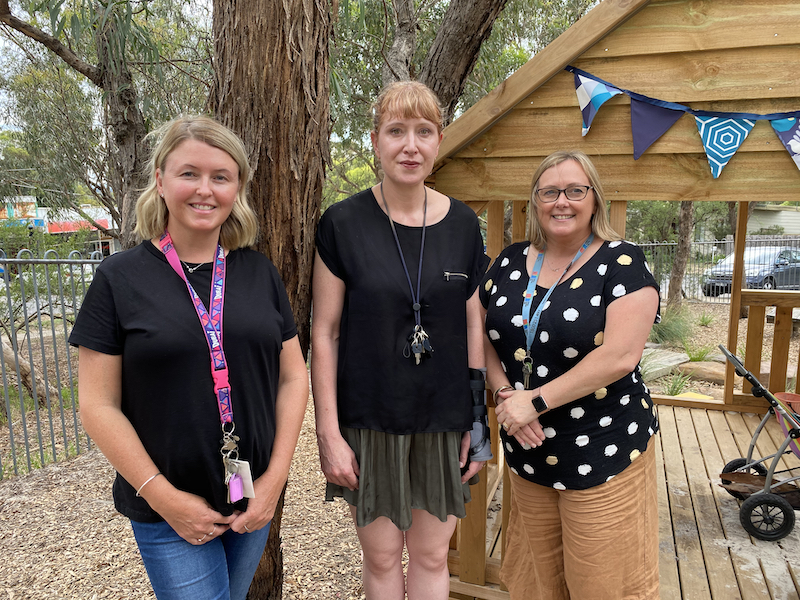 Orange Group – 
4 Year Old
Jo (Co-educator), Nicole (Teacher), Leigh (Co-educator)
Jacqui – 3yo Teacher
"My name is Jacqui and I commenced working with the three year old group (Blue Group) from 29th August. I have worked in a variety of early childhood settings and have been teaching for over 25 years. I love teaching and look forward to being a part of the wonderful Panorama Heights Preschool Team. I am a local and enjoy being a part of the Montmorency Community. My passions are: inclusive practice, building responsive relationships with children and families, music and movement, relaxation/mindfulness for children, and sustainability".
Cindy – 3yo Co-educator
"Hello my name is Cynthia Walker, but known as Cindy.  I am the co-educator for the 3 year old group in Room 2.
I have been living in Montmorency for over 20 years and love the environment and atmosphere Montmorency provides.  I am married with two children: aged nineteen and seventeen.  My interests include: Tennis, walking, and following my children's involvement in their sport.
Both of my children went to Panorama Heights Preschool, and it became a fantastic network for my family to meet other children and families in the community.  During this time (2005) I started working at Panorama Heights Preschool and realised I had a passion for working with children. With the support and guidance from my family and the staff at Panorama Heights Preschool I was encouraged to further my knowledge and skills. I have completed a Diploma in Children's Services and continue to research and undertake professional development.
I love building strong relationships with the children and their families, and watching the children grow as individuals."
Kaye – 4yo Teacher
Kaye has been at Panorama Heights Preschool for many years now.  Growing up in Montmorency means that the unique character of the area is well understood.  After undertaking an undergraduate course in Early Childhood Education, Kaye completed a degree in Early Childhood and continues to undertake professional development such as a Bastow Institute course in Educational Leadership and a DET sponsored Mentoring program.   She is closely involved with the local teacher network, helping to organise the annual conference for the past 10 years.
Luluk – 4yo Co-educator
"My name is Luluk. I am one of the 4 years old educators at Panorama Heights Preschool. I finished my Diploma of Early Childhood Education and Care in 2015. It is really rewarding to work with children and experience the fun and excitement of their learning. I like to facilitate children to achieve their full potential through play-based experiences."
Jo – 3/4yo Co-educator
"Hi my name is Jo and I have been working at Panorama Heights as a CoEducator since 2019. I have been working in Early Childhood Education for the past 7 years across both 3 and 4 year old groups as well as with children with additional needs. I love working with children and regardless of abilities Inclusion of all children is my passion and of the utmost importance to me.
I live locally with my husband and 2 daughters and love being part of the Montmorency community. I am excited to be working here at Panorama Heights Preschool and look forward to getting to know your children and your family and being part of your child's learning journey."
Amanda – 4yo Teacher
"My name is Amanda and I am one of the four year old teachers. I have been teaching within the Early Childhood sector for over 15 years. I have both a Bachelor of Early Childhood Teaching and Bachelor of Early Childhood Education. I have lived in the local area for most of my life and love that I get to work within the community with which I grew up with. I am passionate about Early Years Education and enjoy all aspects of working at Panorama Heights Preschool."
Mel – 4yo Co-educator
"My name is Melissa and I am one of the 4 year old educators at Panorama Heights Preschool.  I have been affiliated with Panorama for over 7 years with my own children attending the 4 year old program here.  I am currently furthering my studies in Early Childhood Education so I can continue to help provide quality learning experiences for all the children that attend our centre.  I thoroughly enjoy working with a diverse group of children and providing them with the support required as I help them learn and grow."
Rose – 4yo Co-educator
"I graduated from RMIT in 1994 with a Bachelor of Teaching (Early Childhood). I have worked at Panorama Heights Preschool since 2014 as a Kindergarten Inclusion Support Educator working closely with children with additional needs. In 2016, I also started working as a Preschool CoEducator across various groups. Throughout the years I have worked at various preschools. I enjoy sharing each child's learning journey in a fun, creative and safe environment where each child is valued, unique and important."
Nicole – 4yo Teacher
"My name is Nicole and I teach the four year old children. I am passionate about high quality early childhood education and forming relationships with the families. The community at Panorama Heights are wonderful to work with and I cherish all that we are able to achieve together. I have worked with a range of age groups in a variety of settings since I started my career, in both NSW and Victoria. I have a particular interest in cooking, global cultures and sustainability."
Leigh – 4yo Co-educator
"Hi everyone.  My name is Leigh. I started working at Panorama Heights preschool ten years ago, on a casual basis, when my nephew attended the kinder and am now an educator for one of the four-year-old groups.  I am in my second year of a Bachelor of Early Learning with LaTrobe University.  I live in Briar Hill with my husband and our three daughters.  We enjoy being with family and friends, our Border Force puppy and holidaying in Harrietville. I love my job as an early childhood educator. It's a privilege spending time with your children, getting to know them (and you), seeing how they learn and watching them get ready for their next adventure."