Purpose Statement
To provide children from 3 years to school age with high quality education and care programs in a preschool setting.
Mission Statement
That all children attending Panorama Heights Preschool, have the right to reach their potential through access to the highest quality education and enrichment in a welcoming, inspiring, respectful & trusting setting, which strengthens their identity, wellbeing, resilience and learning.
Children at Panorama Heights Preschool
We believe children are capable learners and need to be given; time, space and environments to socialise, opportunities to explore their interests, discover their identity, independence- without the constraints or stress of adult life. We also believe children need opportunities to be consulted about any aspects of the program or service, to encourage a sense of ownership, responsibility and social justice. Children's social interactions are to be nurtured by providing verbal and non-verbal examples of sharing, turn taking, negotiating, inviting, declining, affirming efforts and conflict resolution.
Therefore, we believe in providing aesthetically pleasing learning environments with a range of opportunities for learning in:
Art, music, language, cultural knowledge, accurate science & mathematical concepts imagination and role play which support children to reach their individual potential through exploring their interests.
Educators will encourage children to develop a sense of self and value of: inclusivity through a respect for others as well as those culturally diverse from ourselves. We will also promote appreciation & care for the environment (natural or man-made) in our programs.
Implement flexible programs that are responsive to individual children's strengths, interest and needs in conjunction with Outcomes and the Principles of Practice outlined in the Victorian Early Years Learning Development Framework (VEYLDF) and Early Years Learning Framework (EYLF).
Programs implemented at our preschool are aimed to promote positive social interactions.
Educators will foster respectful interactions between Adults < > Children and Children < > Children
Families at Panorama Heights Preschool
We believe families are a child's first teacher and therefore are a valuable resource regarding information about a child's needs and interests. Families are a valued partner in developing individual programs for children.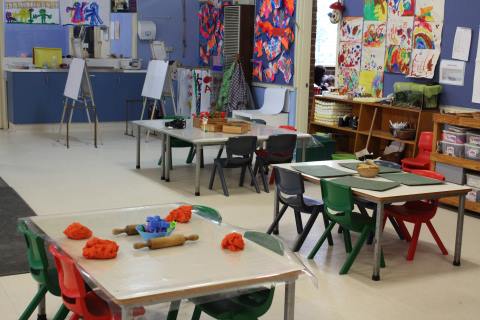 Therefore, we as Educators will:
Collaborate with families to bridge the home and preschool through the promotion and provisions of a welcoming environment.
Engage in family-centred practice by respecting the pivotal role of families in children's lives and include the family's understanding of their children to support shared decision-making about each child's learning and development.
Create a respectful, trusting and culturally inclusive environment where all families are encouraged to participate in and contribute to children's learning and development experiences.
Provide feedback to families on their children's learning at preschool and how families can enhance children's learning and development at home and in the community.
Support and link families to external services where relevant.
Encourage families to share their ideas, skills and knowledge to support families to feel a sense of belonging and equality within our preschool community.
Staff at Panorama Heights Preschool
We believe staff at our preschool are professional, experienced, supportive, caring and passionate educators. We also believe our staff are individuals working within their own teaching styles towards the common goals for children and families listed above.
As Staff, we will:
Promote & encourage the employment of diverse educators who are passionate, collaborative and who enthusiastically embrace early childhood education as foundational to a child's development and the preschool philosophy and culture.
Have respect for the individual, cultural needs of children, families and other educators.
Interact with children in a positive and responsive manner, taking into consideration children's diverse and unique needs.
Ensure that privacy and confidentiality about information concerning children families or other educators will be maintained-at all times.
Promote confidentiality as an example for families at our preschool
Management will:
Promote a culture of working in collaboration with staff so all staff feel a sense of belonging, feel valued and respected as part of a team who share the unifying goal – Best Practice for our preschool.
The Community beyond Panorama Heights Preschool
We believe children learn best within the context of their family and Community & our preschool is an important part of the Community.
The involvement of families and local communities will extend the interests of the children and form the basis for an evolving program encompassing the outcomes of the Victorian (VEYLDF) and National (EYLF) Frameworks.
As Educators, we:
Aim to promote & encourage involvement with the wider community by inviting other groups to share their ideas, knowledge and culture within the service.
Welcome Community members including Elders, artists, musicians and story tellers to educate the children on Aboriginal and Torres Strait Islander and any other world cultures.
Panorama Heights Preschool's philosophy is under pinned by the United Nations Convention on the Rights of the Child, to which Australia is a signatory since 1990. We have an obligation to enact these rights through inclusion in our early education setting.
All staff adhere to the Early Childhood Australia's Code of Ethics which provides a framework for all early childhood professionals.